AB-H2000TIM
New generation oil filled radiator with timer thermostat – save electricity and still arrive at a warm and comfortable home.
WilL OIL PREMIUM will ensure you arrive at a warm and comfortable home, without wasting money on electricity while you are away. the timer function let you program the heater to your own individual needs and daily routines. making your life truly convenient.
This heater is perfect for bedrooms as it has a quiet operataion and it is safe to leave on also while you are sleeping. Will oil is a gentle heating source that will not dry out the air, ensuring you a healthy indoor climate.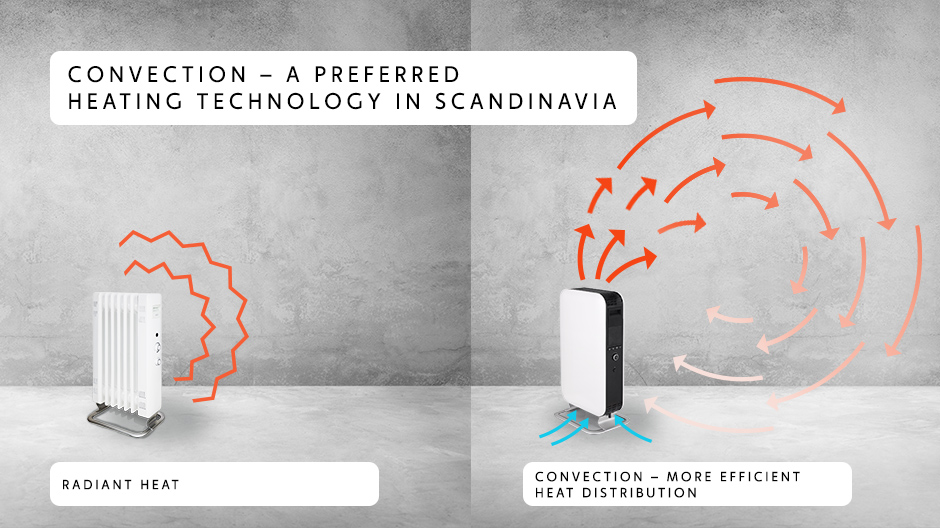 Scandinavia, known for its long winters and cool climate prefers convection heating; cold air is heated as it goes through the heating element, the hot air increases in volume and rise, making room for new cold air to come through, efficiently heating up the room.
Will Oil Premium benefits from the convection heating principle due to its unique closed structure forcing the hot air to rise upwards and in a higher speed, resulting in 29% faster heating of the room compared to traditional oil filled radiators.
will heat boost technology
If you are looking for something that can make your interior look awesome, and at the same time give you the pleasant warm feeling during the winter; then you need the new generation oil filled radiator from Will! Will Oil Premium is an innovative oil filled radiator with the most modern technology. It has an elegant design that can make any place look astonishing. Will Oil Premium boost the heat distribution with 29% and provides a comfortable warm environment. In addition, it does not dry the air.
So, how does Will Oil differ from normal oil filled radiators? Because of its beautiful design it has a closed structure around the normal oil filled fins. This creates a huge difference in terms of providing heat. The design of the heater itself forces the hot air to rise through the hot fins. This increases the speed of the hot air and results in faster and more efficient heat distribution in the room. We call it Will Heat Boost Technology.
Timer thermostat – save electricity and still come home to a warm and comfortable house
New generation Oil filled radiator
Convection heating – a preferred heating technology in Scandinavia
Will Heat Boost Technology – 29% more efficient
Gentle heating source – good for the indoor climate
Silent operation
Safe to leave on while you are away or sleeping
Power: 2000 Watt
3 heat settings: 800/1200/2000W
LED display
Tip-over switch and over heat protection
Aluminium foot for that extra quality
Handles on each side for easy carrying
Cord: black, 150 cm
Colour: White
Size: 42,0 * 15,0 * 65,6 cm (Width * Depth * Height)
Always mount feet before use.
Do not cover to avoid overheating.
When using the heater for the first time an odor may occur, which is common for all types of heaters. This is normal and by no means harmful. For the first 20 minutes when using the heater for the first time we recommend that you have good ventilation in the room.